Picture Books Edited by Patricia Lee Gauch
Other Picture Books, with commentary
As an editor, I never made a book that I didn't believe in. I always felt it was my responsibility to hold standards, and celebrate good books whoever had edited or published them. This is then a chronological, and only partial list.



Animals Animals, illustrated by Eric Carle. A gallery of Eric's animals in his signature collage style including butterflies, a horse, whale, hedgehog, tiger, caterpillar among many others, illustrating animal poems by Carl Sandburg, Kaye Starbird, Valerie Worth, etc., collected by Laura Whipple.



The Turnip, a retold Russian tale, illustrated by Pierr Morgan. A design that feeds the witty story.




Be Good to Eddie Lee by Virginia Fleming, illustrated by Floyd Cooper. Down's Syndrome child has the truest insight in this poignant tale. A book remarkable for its sensitivity and beauty.






Cats Are Cats, poetry collected by Nancy Larrick, art by Ed Young. The absolutely quintessential cat book.




A Lot of Otters by Barbara Helen Berger. Beautiful, dreamy nighttime story where otters are child's read-aloud friends by Grandfather Twilight artist.





La La Rose by Satomi Ichikawa. A lovely toy rabbit gets lost – and found – in The Luxembourg Gardens!





The Great Redwall Feast by Brian Jacques, illustrated by Christopher Denise. A real medieval feast with Denise's lovable mice and badgers and a rhythm you could almost sing!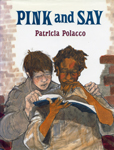 Pink and Say by Patricia Polacco. From a family tale. Two civil war soldiers meet on the battlefield and become friends, only to be torn apart by Andersonville Prison. One of Polacco's best.





The Big Trip by Valeri Gorbachev. Again, text and story are a perfect match in this fun-loving water-color adventure. One of Gorbachev's best.





Will Moses Mother Goose. Both game and nursery rhymes make this endless fun; readers read a rhyme and see spot art, then turn the page and look for that spot art in a beautiful, full color two-page spread.





Coolies by Yin and Chris Soentpiet. Powerful visual statement on the building of the cross continental railway by dedicated Chinese laborers. ALA Notable book.




Togo by Robert Blake. Texas Blue Bonnet Award winner about the true hero of the Alaskan Iditerod. Blake's creates a canine hero whose brave eyes simply stay with me.





Sleepover at Gramma's House by Barbara Joosse and Jan Jutte. Wonderful, whimsical read-aloud, perfect merging of art and text.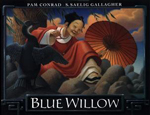 Blue Willow by Pam Conrad and Susan Gallagher. Extraordinary art and story, moment by moment.





Mrs. Wishy Washy's Farm by Joy Cowley. Already a staple in every classroom, Mrs.Wishy Washy has a whole adventure in this full length book.





Elsie's Bird by Jane Yolen, illustrated by David Small. Transcendent art and text bring a prairie story ecstatically to life, reminding me of Sarah, Plain and Tall in a picture book.





Otis by Loren Long. Otis, a lovable tractor, and his sidekick-calf best friend make for a classic story.






The Duchess of Whimsy by Randall de Seve, illustrated by Peter de Seve. Musical text by Randall is matched by unforgettable characterization by renown illustrator de Seve, making this a great read-aloud.






One Night by Cristina Kessler, illustrated by Ian Schoenherr. A dreamy story about an African (Taureg) boy who, in searching for a lost goat on the islolated desert, gets lost himself. In this book the real beauty and variety in the desert comes wonderfully to life: a book wonderfully ahead of its time.